Regional representatives Salzburg
Our team in Salzburg consists of students with individual scientific backgrounds. Chemistry is essential in our current studies and will be in our future jobs as material scientists, engineers and teachers. In addition to that, our goal is to emphasize the spell of chemistry in our everday life and to connect students with regional companies. That is why we get in touch with companies in order to organize meetings and excursions with the aim to create a connection between theory and the actual applications of chemistry. By this interaction we addtionally aim to generate a base for future projects in cooperation with our university.
We are looking forward to great and informative events for students and anyone who is thirsty for knowledge as well as interesting discussions with our partners in industry and at the University of Salzburg.
Our Team: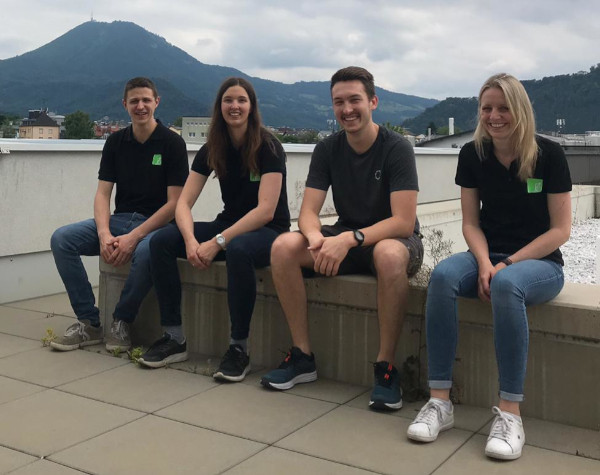 Leonhard Hecht
Member since Juni 2020
Masters' Program
Chemistry and Physics of Materials
Daniela Söllinger
Member since Jänner 2018
PhD Program
Chemistry
Reese Calliman
Member since November 2021

Ann-Kathrin Koopmann
Member since Dezember 2019
PhD ProgramChemistry
Theresa Lankl
Member since November 2021

Kerstin Neuhauser
Member since Oktober 2021

Jakob Praxmair
Member since Mai 2021
Masters' ProgramChemistry and Physicsof Materials
Stephanie Wolfgruber
Member since Oktober 2021

Former Members
Silvia Havlena
January 2018 - March 2021
Milena Schenck
January 2018 - September 2020
Julian Wolf
June 2018 - July 2020
David König
June 2018 - May 2020
Valerie Werner
January 2018 - April 2020
Daniela Reiff
January 2018 - September 2019
Susan Montes
January 2018 - April 2019
Join the GÖCH
Junge Chemie Newsletter
Calendar
There are no events on the schedule.