Regional representatives Graz
The regional representation team from Graz consists of dedicated students aswell as graduates that share their interest in different fields of chemistry. Weconsider ourselves to be a link between students and the chemical industry. Thisgives students the opportunity to gain an inside look into the working life ofdifferent companies and fields. With our help, partners from the industry cancontact interested chemistry students and graduates.
In addition to the association with the industry we also want students to be ableto gain work-relevant soft skills, for example through workshops. Together withprofessors of different universities we organise lectures for chemistry relatedtopics that show the subject from an everyday perspective.
We are looking forward to welcoming many participants at our events as well as the cooperation with old and new partners of the (chemical) industry.
Our Team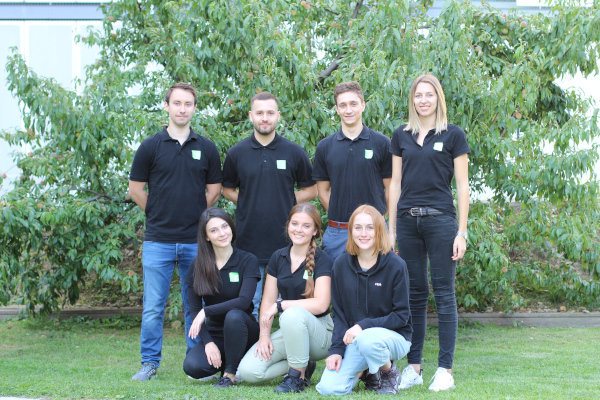 Max Neubauer
Member since November 2018
PhD Program
Process Engineering
Elisabeth Suntinger
Member since April 2020
Masters Program
Technical Chemistry
Maria Degli Innocenti
Member since November 2021

Oliver Pirschl
Member since May 2021
Masters Program
Chemical and Pharmaceutical Engineering
Thomas Schlatzer
Member since December 2019
PhD Program
Chemistry
Beate Steller
Member since September 2018
PhD Program
Chemistry
Lukas Tarmastin
Member since April 2020
Bachelors Program
Chemistry
Alisa Wimmer
Member since May 2021
Bachelors Program
Chemistry
Rey Yagmur
Member since October 2019
Bachelors Program
Chemistry
Former Members:
Sarah Holler
March 2020 - January 2022
Andreas Matijevic
January 2019 - July 2021
Clara Roller
November 2019 - July 2021
Silvia Zieger
November 2018 - June 2020
Sydney McGovern
October 2019 - April 2020
Bianca Brandl
August 2018 - September 2019
Anja Steinmaurer
November 2017 - July 2018
Carina Hübsch
November 2017 - July 2018
Michael Pillinger
Oktober 2017 - July 2018
Bernhard Ringer
March 2016 - October 2017
GÖCH Beitritt
Junge Chemie-Newsletter
Kalender
Es stehen in nächster Zeit keine Termine an.